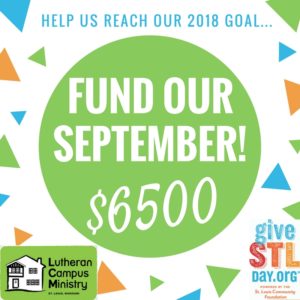 Dear Friends:  
Spring flowers means graduation is just around the corner!  We've had a dynamite semester as a LCM community on campus, in St Louis and in Guatemala. Ten incredible students are leaving LCM and springing into world: we'll dedicate our June mailing to their incredible stories of medical school, teaching in France, Anheuser-Busch Global Internship program, and more!    Your loving support has created a unique faith community to support & challenge them through young adulthood. Thank you!
GIVE STL DAY is MAY 2!

 
It's a city-wide initiative by the St Louis Community Foundation to encourage non-profit support.  Good News: you DON'T have to live in St Louis to donate!  In fact, you don't even have to be near a computer on May 2: this year you're able to pre-schedule donations! Click Here to get started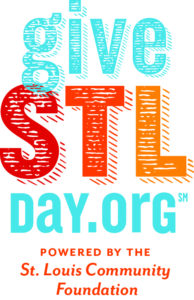 Our 2018 ambitious goal is….
"Help Us Fund September" @ $6500!!!!
Here's what we need for an awesome LCM SEPTEMBER:
$200-publicity/invitations to new students
$75 for each meal x 6
$15 per discussion group book x 20
$785 LCM House monthly utilities/expenses
$10 per LCM t-shirt x 40
$1000 subsidizes the Fall Retreat
$1500 3 peer ministers for the semester
$500 Worship (candles, banners, licenses)
$2500 towards staffing (campus pastor & admin)
Here's how you can invest in young adult ministry:
Follow this link to our Give STL Day Page

Choose your amount

Schedule and Donate!
For *extra* help, please donate between 9-10 am or 12-1 pm.  There's a matching gift!
Share on social media to help spread the word:-)
Together we can continue to offer a welcoming space for college students to experience Christ's abundant, radical love.  We can't do this vibrant ministry without you! THANK YOU!!!!
Peace,
Pastor Rebecca