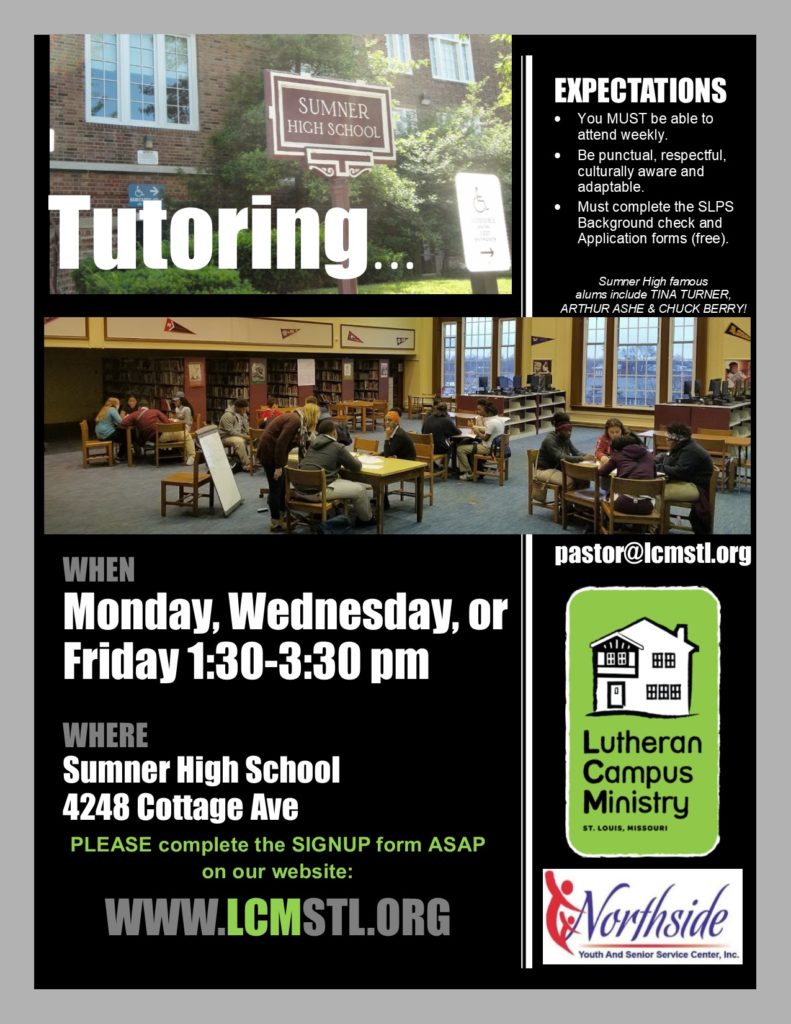 "SUMNER BULLDOG ACADEMY"
WHEN:MONDAYS, WEDNESDAYS & (alternating) FRIDAYS 1:30-3:30 PM
We've been invited to tutor/mentor students @ the historic Sumner High School.
WE NEED VOLUNTEERS to help students 1-on-1 and 2-on-1 to complete classroom assignments in English, Math & science.
WHY: This is a partnership with Lutheran Campus Ministry, St Louis Public Schools, and the Northside Youth & Senior Services Center DREAMS Program..  We seek to bridge some of the deep racial, geographic & socio-economic 
divides/inequalities in St Louis.  We believe the best way to overcome these divisions is building relationships "north of Delmar".
WHERE/WHO: Sumner High School 
(4248 Cottage Ave) was the FIRST high school for African American students west of the Mississippi River, founded in 1875. Famous alums include Tina Turner, Arthur Ashe, Josephine Baker and Chuck Berry!  In the past few decades Sumner has struggled to stay open with neighborhood changes, increased violence and dropout rates.  SLPL gave them an ultimatum in 2013 and the community has worked even harder to improve the school since then.
EXPECTATIONS:
We need reliable, faithful commitments (<2 absences per semester).

Be punctual, respectful, culturally aware and adaptable.

Must complete the SLPS Background check and Application forms.

Attend one training session 
Even if you can't help tutor this semester—you can still be involved!  Talk to Pastor Rebecca!  For example:
help shop/prep weekly snacks 

help recruit tutors for next semester

tutor a student who needs to meet at a different time/focus on different subject