Summer at LuMin is in Session!
Burgers and S'mores – Wednesday, June 16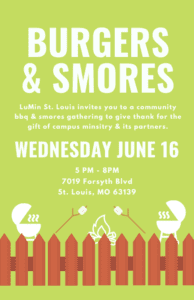 As a thank you for your support and a welcome to summer – LuMin invites you to Burgers and Smores on Wednesday June 16 from 5-8 pm. Come for food and fellowship, visit the campus house, and enjoy a great summer night. Email pastor.luminstl@gmail.com to RSVP. See you there!
Pastor Tina visits St. Louis area churches…

Sunday, June 13, 9 am & 11 am – Trinity Lutheran, Chesterfield
Sunday, June 20 – Bethel Lutheran, University City
Please check with each congregation on how to tune into or attend worship.
Summer Student Gatherings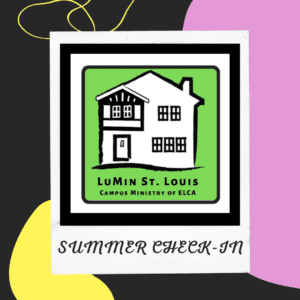 1 & 3 Monday nights via Zoom
7 pm Central Time, June 7, 21, July 5, 19, August 2, 16
Catch up, share summer happenings, vision for another year of programming