Please fill out this google form before or when you arrive.
LuMin Sundays in May…
Sunday May 9 – Love One Another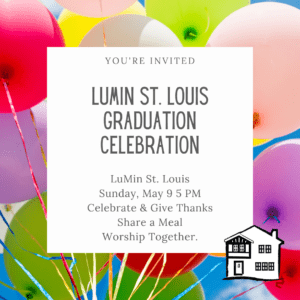 THANK YOU! GRACIAS! MERCI!


TOTAL RAISED (BEFORE PRIZES): $3510
Thank you to our friends and family who supported LuMin on GiveStLDay 2021.
What a great days of fundraising and story telling.  We'll let you know a final final total once the St. Louis Community Foundation has tabulated all the info!
Missed the day?  No worries. You can head over to our giving page and donate right now. 
You may also send a contribution to LuMin St. Louis, 7019 Forsyth Blvd, St. Louis, MO 63105.