Join LuMin each year (usually the beginning of February) for our biggest fundraiser!  It's a night of fun, fellowship, and support for our ongoing mission to university students in the St. Louis area.
The night begins with doors open at 5:30 pm and play beginning at 6:30 pm
We give thanks for Bethel Lutheran Church
 

7001 Forsyth Blvd., St. Louis, MO 63105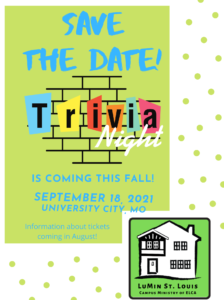 We hope to have this fun event in September. 
This will be dependent on the availability of Bethel Lutheran Church and COVID rates. Check back in August!